Thank you for browsing my website and welcome!
My name is Caroline and I am passionate about Health and Wellbeing, which besides the footsteps theme, is why I named my company "Steps Towards Health Reflexology". It is my mission to help you take steps at your own pace towards a path of true wellness and holistic health (physical, emotional and spiritual health). I have been a fan of reflexology for over 20 years and I hold the Australian Diploma of Reflexology (HLT52615).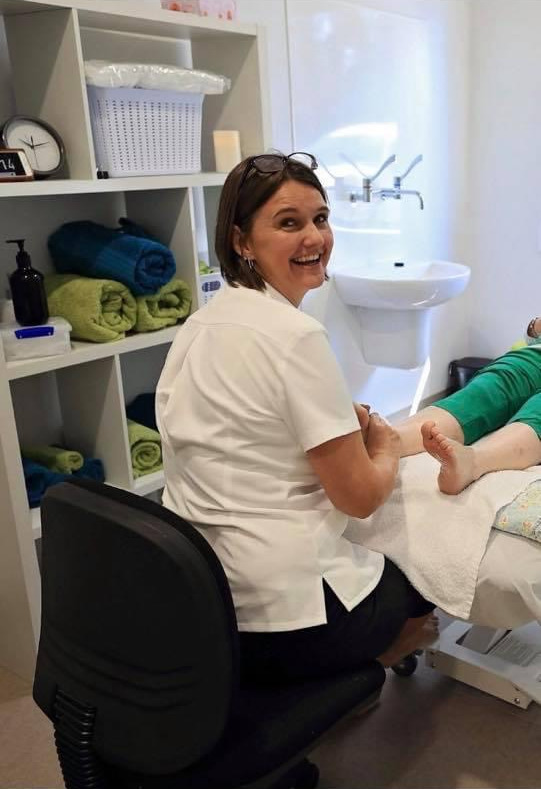 My Journey into Reflexology
Clients often ask me how did I get into Reflexology? I know it wasn't a career path that was ever discussed at school! To be honest, I'm not entirely sure if I chose Reflexology, or Reflexology chose me!
My first taste of Reflexology was when I was working as long-haul cabin crew and I had some time to spare in the airport in Osaka. One of the crew suggested we "Go and get Reflex" and I didn't even know what she was talking about!! Nothing like my treatment room today, we sat in big chairs in a line, much like in the nail bars. But it was enough to get me absolutely hooked and wanting to learn more! I flew back to the UK and found myself the most amazing reflexologist who explained to me all about this incredible therapy. I had 6 sessions in close succession which really helped me counteract the wear and tear that long haul flying was having on my body, I had to get my uniform re-issued as I had dropped several dress sizes and a few months later, I fell pregnant after trying for some time.
I continued to have reflexology throughout my pregnancy and when I was told that my son was in the breech position, my wonderful reflexologist helped me turn him around just by twiddling my toes and get ready for the birth! Some months later, I moved to Australia and sadly I didn't end up finding someone to replace my beautiful UK reflexologist. In the end, this became my inspiration to do the training myself so that I could go on and help others, the way that I had been helped. I am now going into my 8th year of being a reflexologist and I can honestly say it is my dream job!
Qualifications
Since qualifying as a Reflexologist, I have been investing in further courses with some of the best practitioners around the world, to be able to bring you some of the best and most innovative Reflexology techniques.
I started off my Reflexology career renting a treatment room in a Natural Living Shop here in Cairns. This was the perfect location for me as the shop attracted a like-minded clientele who were looking for natural ways to improve their health. My business very quickly grew and I decided to add to my knowledge and train as a NES Wellness Practitioner. This allowed me to bring Wellness Advice, PEMF (Pulsed Electro Magnetic Frequency) through the NES Mi Health Machine and the NES Infoceuticals into the treatment, where appropriate.
With this experience, I went on to help the Couch Wellness Centre open their doors and introduced reflexology to their treatment program. I worked with them for 3 years and absolutely loved working with Oncology patients. During my time there, I witnessed some incredible transformations! I took the opportunity whilst working there to further educate myself and became a qualified Butterfly Touch Oncology Reflexology Practitioner and a Sally Kay trained Reflexology Lymphatic Drainage (RLD) Practitioner.
After leaving Couch to concentrate on my home clinic, I qualified in Facial Acupressure, a wonderfully relaxing treatment which has proved to be an amazing addition to the clinic and super popular with my clients.
With more and more clients starting to come to me having had falls and accidents, looking for remedial reflexology and with more complex conditions, I decided to expand my knowledge and train with the Kruchik Institute in Israel. I added TOP 1 (The Treatment of Pain) and TOP 2 (The Treatment of Auto-Immune Conditions to my toolbox.
I am planning to add lots more study over the next couple of years, including Maternity, Menopause and Foot Reading! I strive to be the best practitioner that I can be and share my learning and my skills with all of you.
I have recently set up a little shop at my home clinic to bring you a range of beautiful natural products to help you select great quality products at an affordable price. You can view my current stock if you click on the Shop Tab.
Family Life
I am mum to Sam, who from 15 years old had his own company building affordable websites! (He built my website and logo for me!) I love to travel and have travelled extensively with Sam, even home-schooling him on the road for a year of junior school. I enjoy time spent with my family, visits to the beach, cycling, coffee with friends, making steps towards better health, better vitality, a better mindset and a healthier, low tox lifestyle.
I hope to see you soon!
I very much look forward to meeting you and working to help you take your own Steps Towards Health!
Caroline x
Get in touch
Find out more about how Reflexology could work for you! Call me on my mobile 0409 040 527 or email me at [email protected]